Pussy Riot as the Trickstar
Keywords:
Pussy Riot, Russia, Moscow, feminism, trickster, trickstar, punk, performance, patriarchy
Abstract
In his article, Mark Lipovetsky analyses Pussy Riot's punk-prayer and the public discussion following the event. The author situates Pussy Riot's performance in the Cathedral of Christ the Saviour as the cultural return to and rebirth of the trickster trope – which was extremely powerful in the Soviet period but visibly declined in its cultural significance in post-Soviet times. At the background of this tradition, Pussy Riot represents a rare case of the trickstar (Marylyn Jurich), a female trickster, undermining not only socio-political but first and foremost the gender regime of the society, challenging sexism and gender repression. Analyzing Pussy Riot's performance and its perception, Lipovetsky's article argues that the Pussy Riot debate has revealed such flaws in the liberal discourse as the silent equation of moral values with religious doctrines; hierarchical, essentialist and, basically, pre-modern, understanding of culture (rejecting contemporary art for the lack of "harmony"); and, most importantly, the allegiance to patriarchal stereotypes. The shared values that are responsible for these flaws, appear not so different from the conservatives' rage against "blasphemy" and the assault on the national "spiritual ties" ("dukhovnye skrepy", to use Putin's words); aggressive "defence" of "eternal" moral/religious values epitomized by the disgust towards contemporary art. The discourse triggered by Pussy Riot within the liberal intelligentsia reveal the hypocrisy of the liberal opposition, which supported "girls" only as the irritant to their enemies, while not so secretly despising them as silly manipulated puppets who should be physically punished for their shameful transgression. Furthermore, this debate laid bare the responsibility of neo-traditionalist ideology, shared by many representatives of liberal intelligentsia, for the Putin regime's ideology.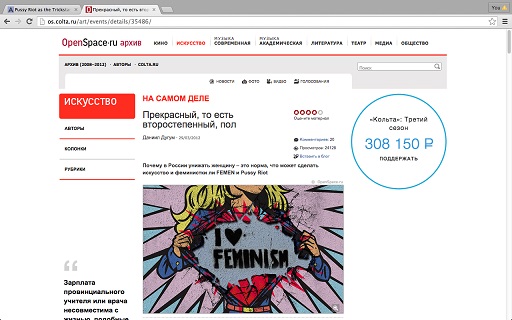 How to Cite
Lipovetsky, Mark. 2015. "Pussy Riot As the Trickstar". Apparatus. Film, Media and Digital Cultures of Central and Eastern Europe, no. 1 (June). https://doi.org/10.17892/app.2015.0001.5.
License
Copyright (c) 2015 Apparatus, Mark Lipovetsky
This work is licensed under a Creative Commons Attribution 4.0 International License.
The articles in Apparatus are published under https://creativecommons.org/licenses/by/4.0/ This license does not apply to the media referenced, which are subject to the individual rights owner's terms.
The authors hold the copyright without restrictions and retain publishing rights without restrictions.