DAU. "Sometimes this space can hurt you."
Keywords:
Ilya Khrzhanovsky, Vladimir Sorokin, Lev Landau, Soviet Union, Ukraine, Babyn Yar, DAU, ethics, ethical turn in film, non-professional actors, installation, film, experiment, immersion, performance, anthropology, discussion, authenticity, violence
Abstract
DAU is an experimental project at the intersection of performance art and cinema, initiated and led by Ilya Khrzhanovsky, and taking as its subject the Soviet Nobel laureate Lev Landau (1908–1968), a theoretical physicist who worked in the Physico-Technical Institute (UFTI) in Kharkiv in the 1930s. It was originally planned as a biopic but gradually an immersive art installation developed alongside it. Khrzhanovsky established his film set in the Ukrainian city and, between 2009–2011, hundreds of participants - almost all non-professional actors - lived and worked at the 'DAU Institute', a simulation of Soviet life. The first films created from the material shot at the DAU Institute were released in Paris in January 2019, and an immersive DAU event took place in two Paris theatres and the Centre Pompidou, for which visitors had to obtain a DAU visa. Two more films – DAU. Natasha and DAU. Degeneration – were released in the 2020 Berlin Film Festival. In April 2020 several films became available online.
In the light of ongoing controversies surrounding the production process of the DAU project and films, Apparatus Journal canvassed opinions from writers, academics and curators. We are publishing  academic essays as well as artistic and personal responses, some addressing the writers' experiences of DAU (the films and/or the events) and some the wider ethical questions surrounding them. Apparatus Journal regards this as a jumping-off point and a stimulus to the future debates that will undoubtedly unfold as the repercussions of DAU become clearer.
Editors of this compilation: Natascha Drubek – John Leman Riley – Irina Schulzki.
Thanks to Elizaveta Shishkina.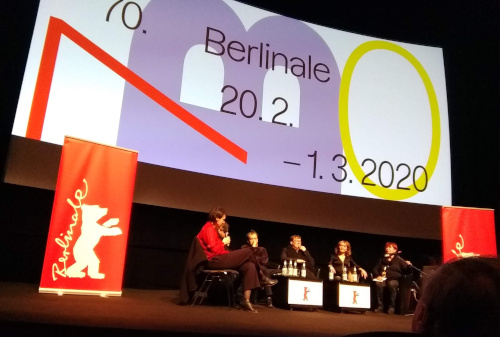 Downloads
How to Cite
Aronson, Oleg, Amanda Barbour, Olga Bryukhovetska, Philip Cavendish, Natascha Drubek, Heleen Gerritsen, Nick Holdsworth, et al. 2020. "DAU. 'Sometimes This Space Can Hurt you.'". Apparatus. Film, Media and Digital Cultures of Central and Eastern Europe, no. 10 (September). https://doi.org/10.17892/app.2020.00010.230.
License
Copyright (c) 2020 Apparatus. Film, Media and Digital Cultures of Central and Eastern Europe
This work is licensed under a Creative Commons Attribution 4.0 International License.
The articles in Apparatus are published under https://creativecommons.org/licenses/by/4.0/ This license does not apply to the media referenced, which are subject to the individual rights owner's terms.
The authors hold the copyright without restrictions and retain publishing rights without restrictions.